FMCG exporters in India
Mudra Global is engaged in the export of FMCG goods from a wide variety of products and labels that have been widely sold in India and abroad. We are one of the companies that dominate the FMCG export market, aiming to be in a position to be recognized as one of the largest FMCG exporters in India.
Fast-moving consumer goods (FMCGs) are often referred to as consumer packaged goods because they are items with easy distribution at a reasonably low cost. These contain non-durable household products such as frozen meals, snacks, canned juices, over the counter remedies, cosmetics, toiletries, dry products, and other consumer goods. You can find several fast-moving consumer goods (FMCG) companies in India that are selling a wide variety of products to people of diverse uses. FMCG goods are the most competitive and demand-driven products in the world market.
Mudra Global: A committed FMCG exporters company in India
Mudra Global has tremendous potential with significant expertise in foreign trading in FMCG goods. As the leading trader in FMCG products in India, Mudra Global works to reduce the disparity in demand and availability of consumer products at a global level and supplies premium products to various parts of the world. As leading FMCG exporters in India, we are booming and touching the highest level due to the demand for goods based primarily in the country and required in different locations around the world. You can import FMCG from India through Mudra Global from some of the world's leading brands, such as Unilever, P&G, Tata, Godrej, ITC, Cadbury, Nestle, Himalaya, Lakme, Ponds, Fabre Castle, etc. We are one of the big FMCG exporters in Mumbai and many other Indian cities that supply products in the global market by reaching out to customers from other countries. We are exporting products from India to the African nations, the United States, South America, Caribbean countries, etc. We are a true believer in serving the right goods without losing consistency. We guarantee that the goods served to our customers are of the highest quality with a higher degree of customer loyalty.
Our exported FMCG products list
We are dealing with a range of FMCG products wholesale suppliers in India who market goods in various categories from well-known brands across the world. Mudra Global exports demanded FMCG goods at the international level through a well-planned framework. We are working hard to build a much greater space for ourselves as FMCG exporters in India by adding more and more FMGC products of important brands to our company list. All the various categories offered by Mudra Global as part of the international trading of FMCG products are described below.
Haircare
We are exporting hair care products such as shampoos, herbal shampoos, conditioners, oils & serum that are used for the grooming and nourishment of hairs as well as prevent damage to them.
Some of the related haircare brands we are exporting are Sunsilk, Dove, Clinic Plus, Indulekha, Loreal, Parachute, Fiamma, Head & Shoulders, Chick, Nyle, Lotus, Pantene, Indica, VI-John, etc.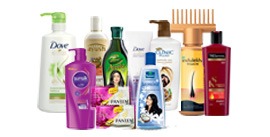 Skincare
Skincare is the range that promotes the integrity of the skin, enhances its beauty, and alleviates skin conditions and includes products such as face creams, scrubs, body lotions, etc.
Skincare products most demanded fast-moving consumer goods in India due to the growing cosmetics industry include brands like Ponds, Lakme, Nivea, Vaseline, Lux, Unilever, Dove, Himalaya, Godrej, etc.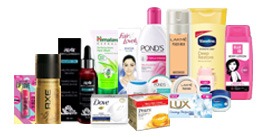 Oral care
In the oral care category, we offer Dental care and hygiene products such as toothpaste, toothbrushes, flosses, products for the sensitivity of teeth, teeth whitening kits, mouthwashes, etc.
Some of the associated brands in our oral care category are Colgate, Dabur, VI-John, Pepsodent, Himalaya, Unilever, P&G, Close-up, Listerine, etc.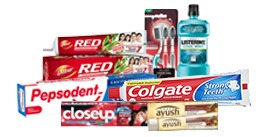 Personal care
In the personal care section, we deal with women care and men's grooming products that include shaving creams & foams, aftershave lotions & gels, hair removal cream for women, roll-on, whitening cream, anti-mark cream, hand cream, lip guard, anti-mosquito products, fresh wipes, restroom tissues, napkins, tissue dispensers, Attar roll-on, etc.
Some of the product needs that we meet in the international market through FMCG exporters in India for personal care range include the brands such as VI-John, Cobra, Splash, Kosher, Ameerah, Regal, etc.
Home care
Home safety requires disinfectants and hygiene materials to keep our home healthy from the transmission of disease-causing microbes leading to a dramatic rise in the demand for household cleaning products in the international markets.
In our home care range, we are exporting surface cleaners, bathroom & toilet cleaners, dishwashing products, sanitizers, detergents, fabric softeners, stain removers, etc., from many popular brands such as Harpic, Dettol, Wheel, Rin, Lifebuoy, Lysol, Colin, Henko, Surf excel, Tide, etc.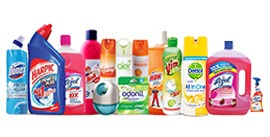 Baby care
The demand for baby care products is growing with increasing awareness and concern for the skin of the baby, the body, and overall care and diet. We deliver baby care goods to the world as the top FMCG exporters in India.
Our baby care range includes baby food, baby soaps & shampoos, baby lotions, baby oils, anti-rash wipes & diapers for the babies, etc., from the top brands like Johnson & Johnson, Himalaya, Dove, Pampers, Mee Mee, etc.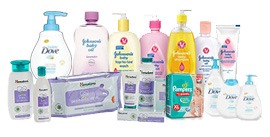 Food and beverages
Packed food and drinks represent a significant portion of moving consumer goods FMCG with expanding deliveries in the foreign markets due to increasing demand offered by some major brands named, Morton, Indi, MTR, Britannia, Knorr, Fortune, Mrs. Bectors Cremica, etc.
The processed food is dried, frozen, wrapped by adjusting the nutrient content for fortification, retaining in a variety of ways, includes jams & spreads, pastes & purees, samosa chutney, Schezwan chutney, tikka masala sauce, canned fruit, canned vegetable, ready to eat meals, sweets, breakfast cereals, biscuits, cookies, Maggie, Atta, basmati rice, paneer, ghee, etc.
Indian spices are high in demand across the international market due to health benefits. Top spices brand that we sell internationally include Everest, MDH, Tata, Catch, Goldie Masala, etc.
Beverages include health drinks such as fruit juices, crushes, squash, etc., and soft drinks that we sell from top brands across countries such as Fanta, Tropicana, Coca Cola, Pepsi, Frooti, etc.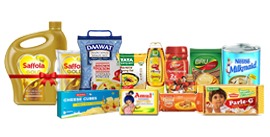 Utensils
Utensils are instruments used for food processing and are demanded from the FMCG exporters in India into the global market due to the increasing number of households. Such products include cookware, bakeware, cutlery, etc.
We are exporting Utensils in the global market from the leading brands like Hawkins, Prestige, Borosil, Milton, LG, Philips, Morphy Richards, Glen appliances, etc.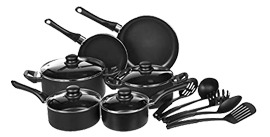 Stationery
Stationery refers to the materials used in writing, some of which are paper-based, and some are ink-based, which we deal with in our FMCG collection to export internationally.
Stationery goods we primarily export include items like pens & pencils, paper, envelopes, and other office materials from famous brands such as Reynolds, ITC, Fabre-Castell, Cello, Archies, Camelin, etc.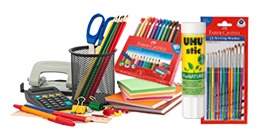 Mudra Global has worked extremely hard since its establishment as an FMCG exporter in India. We have now extended our wings globally and sponsored well-established networks worldwide. Using a strategic procurement strategy and our long-standing global ties, we are effectively operating globally as FMCG exporters from India with excellent standards. As a multinational trading company, Mudra Global offers a wide variety of quality products to global customers, making it the world's largest FMCG exporters in India. We identify foreign trade with a strong focus on delivering value FMCG products that make us the best option in the industry.